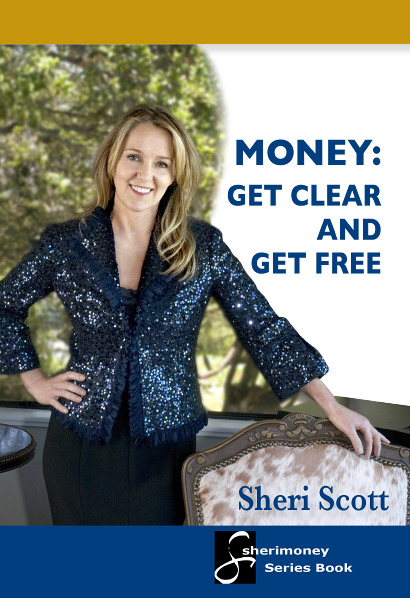 Book Description
In Money: Get Clear and Get Free, Sheri comes alongside as your advisor, with decision tools, savings plans, budgets, debt analyzers and lifestyle evaluations so you can get clear about your financial reality, discover how your thinking is affecting your finances, and declare what you want more effectively. Move into daily action. Transform your finances. Boost your happiness and satisfaction.
Use this book to:
create a breakthrough in your income
calculate how much to charge for your work
position yourself to receive benefit when you create value
build for the long term
move into the plus column
If you want to break through to the next level or break free of obstacles that have limited you in the past, this is the perfect book for you.
Look for it first in electronic format, where we can save paper and provide extra functionality.
Hi, welcome to the Sherimoney website. It's under reconstruction. But, I'm leaving this page up to give you a peek at some of my work in progress.
Money: Get Clear and Get Free, is a groundbreaking new book that leads you step by step through everything you need to get past money as a limit to your potential.
This book encourages you to look at what is real and move through to a better life, curing the causes underneath your financial troubles rather than just trying to make the symptoms go away.
Learn how to deal with the three root causes of unhappiness with money:
Unclear picture of personal financial reality
Unclear communication about money
Unclear thinking about money
Once you've addresses the three root causes, you'll have the clarity you need to get free.
When you finish, you'll say:
I can do this!
My finances make sense to me now.
Thank you for being calm and straightforward.
I've solved my most important financial questions
I've made critical financial decisions.